Florenz Ziegfeld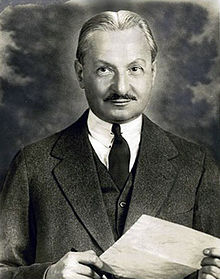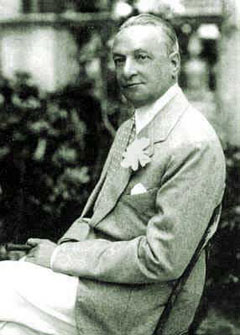 1869-1932, American theatrical producer, b. Chicago. The talent manager son of a German immigrant, in 1907 he first produced the Ziegfeld Follies, for 24 years an annual revue famous for its extraordinarily elaborate staging, variety of performers, and chorus line of beautiful women. Anna Held, Billie Burke, Fanny Brice, Eddie Cantor, WillRogers, and W. C. Fields were among his stars. His other spectacular productions included Sally, Rio Rita, Rosalie, Show Boat, and Bitter Sweet. He was married to Anna Held from 1897 to 1913 and in 1914 married Billie Burke.





| | |
| --- | --- |
| Anna Held | Billie Burke |
| | |
Florenz Ziegfeld, Jr. was born in Chicago on March 15, 1867. (Some published sources list March 21 - I have not seen solid documentation to verify which is the correct date.) His German immigrant father ran the successful College of Music, and raised his family in an atmosphere of relative comfort. Young Flo had two brothers, one sister, and a strict but loving mother who kept her brood in line. Even as a boy, Flo showed a penchant for creative publicity. He went a bit too far when he sold kids tickets to see a school of "invisible fish" that turned out to be nothing more than a glass bowl filled with water. The resulting fuss taught him a valuable lesson. In his adult career, he always tried to build his publicity around the best talent he could find.
In later years, Flo would claim that at age 16 he ran off with Buffalo Bill's Wild West Show and beat Annie Oakley in an 1883 shooting match - but since Oakley did not begin touring until 1885, odds are that this was one of Ziegfeld's many self-perpetuated legends. We do know that Ziegfeld so hated school that his parents sent him off to a brief stint at a Wyoming cattle ranch. After a few months playing cowboy, the teenager returned to Chicago.
In 1893, Ziegfeld's father opened The Trocadero, a nightclub designed to capitalize on the city's upcoming World's Fair. When the club's mix of classical music and variety acts failed to draw much of an audience, Flo offered to save the day. Given a free hand, he booked strongman Eugene Sandow and staged a massive publicity campaign. Sandow's statuesque physique and dramatic feats of strength wowed the opening night audience. When several high society matrons stopped backstage to see the handsome hunk flex his fifty eight inch chest up close, the resulting press coverage made the Trocadero the hottest night spot in town.
After saving his grateful father from bankruptcy, Ziegfeld took Sandow on an extended vaudeville tour, winning fresh press coverage in every city with a series of inventive publicity stunts. In San Francisco, things backfired when Ziegfeld announced Sandow would wrestle a man-eating lion - the thousands who showed up could see that the poor beast had been drugged into submission. After two years, Sandow and Ziegfeld parted on good terms.
Although Sandow's tour had been a tremendous success, Ziegfeld's penchant for gambling had eaten up most of his profits. He decided to try his luck on Broadway.
What Broadway lacked, at the turn of the century, was a figure who could fuse the naughty sexuality of the streets and the saloons and the burlesque show with the savoir-faire of lobster palace society - someone who could make sex delightful and amusing. What it lacked was Florenz Ziegfeld.
The Men of The Ziegfeld Follies
The 1917 Ziegfeld Follies starred the greatest comedic lineup of the day - Fanny Brice, W.C. Fields, Will Rogers, Eddie Cantor, and Bert Williams - alongside a dazzling array of American beauties. In his best-remembered skit from that year, Bert played a Grand Central redcap who continually brags to co-workers about his son in college. As Ann Charters described in Nobody, "Finally, when the son - Eddie Cantor in blackface - appeared, an effeminate youth wearing glasses with broad white rims, Williams' embarrassment and the eloquent difference in personalities between the two comedians stopped the show. But these moments of greatness were infrequent and fleeting."


Bert Williams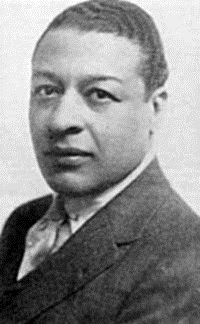 My Landlady
Born in the West Indies, his dream from childhood was to become a song-and-dance man. From Wild West touring troupes, Williams landed on the Great White Way, where he not only became one of the first blacks to break through but also changed the face of the American stage. Forbes argues that every black performer owes something to Williams, who rose through vaudeville in New York to become a Broadway composer/lyricist, with his first show produced in 1889. He debuted as a performer the following year.
In 1903, he was featured in the first all-black cast on Broadway in the musical farce In Dahomey. The score, not by Williams, consisted of the no-longer politically correct "When Sousa Comes to Coontown." Three years later, he composed and starred in the musical comedy Abyssinia.
In 1910, Williams became the first black star of the fabled revues of beautiful girls, the Ziegfeld Follies. The impresario knew he was making a bold move, and he was severely criticized for integrating the company by many of his investors and audience members. Williams, singing his signature tune "Nobody" and doing rube-style comedy, played on the same stage as Fanny Brice and W.C. Fields - even if his salary wasn't commensurate with theirs. He starred in seven more editions before his death in 1922 at 47.
Eddie Cantor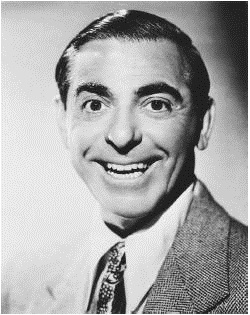 A few moments with Eddie Cantor
Eddie Cantor was born Israel Iskowitz in New York 1892. His mother died when Eddie was 2 years old of lung cancer and his father abandoned him short after leaving Eddies grandmother to raise him. As a teenager, Eddie began winning local talent contests and began singing at the Coney Island Saloon where he was accompanied by Jimmy Durante. Cantor changed his name to Eddie in 1903, because his girlfriend liked the name. They were married in 1914 and were married until Ida's death in 1962. In 1907, Eddie began performing in vaudeville. In 1912 he appear in Gus Edwards' Kid Kabaret. Soon after, Florenz Ziegfeld gave Eddie a spot in the show Midnight Frolic. A year later, Cantor made his Broadway debut in the Ziegfeld Follies of 1917. He continued in the Ziegfeld Follies until 1927. His radio program, Time to Smile, was broadcast from 1940 to 1946. However, the show stirred up controversy when a young Sammy Davis, Jr. appeared as a guest performer. The producers threatened to cancel his and he responded by booking Sammy Davis Jr. for the rest of the season. Like many others, he lost almost everything in the crash of 1929, briefly considered quitting. He continued writing and performing and made a number of successful movies throughout his career. He died in 1964, after a series of heart attacks beginning in 1952. In the 1950s, he was one of the alternating hosts of the television show The Colgate Comedy Hour.
Eugen Sandow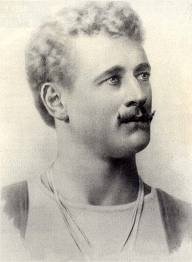 Strongest Man In The World
Born Friederich Wilhelm Mueller
Height: 5' 9" (1.75 m)
Sandow was already a great admirer of Greek and Roman statues of gladiators and mythical heroes when his father took him to Italy as a boy. By the time he was 19, he was already performing strongman stunts in side shows. The legendary Florenz Ziegfeld saw the young strongman and hired him for his carnival show. He soon found that the audience was far more fascinated by Sandows' bulging muscles than by the amount of weight he was lifting, so Ziegfeld had Sandow perform poses which he dubbed "muscle display performances." The legendary strongman added these displays in addition to performing his feats of strength with barbells. He also added chain-around-the-chest breaking and other colorful displays to Sandows routine. Sandow quickly became a sensation and Ziegfeld's first star.
He was married to Blanche Brooks Sandow, had 2 daughters, but was probably unfaithful to her, since he was constantly in the company of women who paid money to feel his flexed muscles back stage after his stage performances. He also had a close relationship to a male musician he hired to accompany him during his shows. The man was Martinus Sieveking, a handsome pupil of Sandow. The degree of their relationship has never been determined, but they lived together in New York for a time.
Sandow knew many famous people in his lifetime... among his friends were Arthur Conan Doyle; Thomas Edison, who made early motion pictures of Sandow; the King of England; Isabella Gardner of Boston and many other celebrities of the day. Sandow invented many bodybuilding exercises, some still used today, and equipment such as a lightweight dumbbell-shaped hand exerciser that was spring-loaded. He was quite generous with his time and money -- out of his own pocket, he paid the housing costs of foreign athletes at the Olympic Games held in London. Sandow was the promoter and judge at the first bodybuilding contest ever held, in New York on September 14, 1901. Sandow also made a world tour in 1903. He died prematurely in 1925 at age 58 of a stroke shortly after pushing his car out of the mud.
Ziegfeld's Favorite
Fanny Brice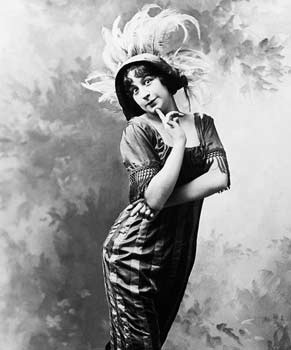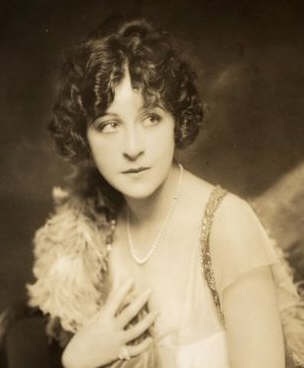 Although known chiefly as a comedienne, Fanny Brice first became internationally famous for singing a torch song, "My Man." Channing Pollock wrote English words to the French tune, "Mon Homme," which Miss Brice introduced in "The Ziegfeld Follies." It proved a "natural," since it appealed to every woman who had ever been in love.
Her classic burlesque and pointed satire formed a hardy perennial of the "Follies" almost every year starting in 1916, when she first did a comic version of a dying swan ballet. Her lampoon of sultry Theda Bara, her take-off of "Camille," with W. C. Fields as the maid, and her travesty on fan dancers and the modern dance, were part of the repertoire of the actress whom Brooks Atkinson of The New York Times described as "a burlesque comic of the rarest vintage."
She was billed with Eddie Cantor, Will Rogers, W. C. Fields, Willie Howard and other top Broadway performers through the years, in which she appeared in such shows as the "Follies," "Music Box Review of 1924," "Sweet and Low" and Billy Rose's "Crazy Quilt." She also put across the song, "Rose of Washington Square."
She created the character Baby Snooks, originally acting the part of the annoying little girl at parties for the entertainment of friends. Later Snooks was regularly featured in sketches in the "Follies" and was introduced to radio in 1938.
After an eleven-year run, Baby Snooks went off the air when its sponsorship on the Columbia Broadcasting System network was withdrawn by General Foods. In November, 1949, however, Miss Brice resumed the role under a long-term contract with the National Broadcasting Company. The company announced yesterday that the program would be off the air for the remainder of the season, the spot being filled by an orchestra.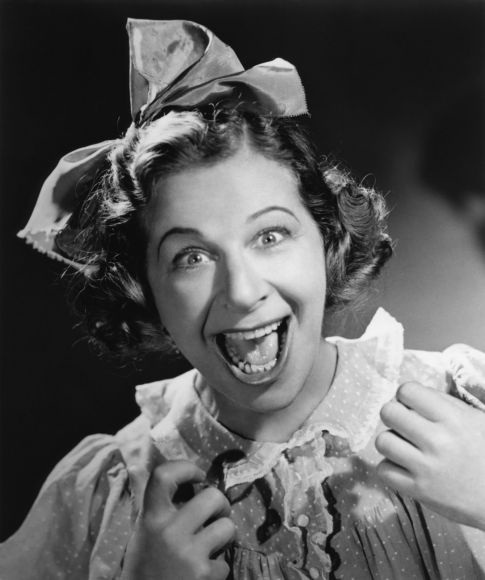 She was really Fannie Borach, daughter of a saloon-keeper on Forsythe Street in the crowded Lower East Side, where she was born in 1892. Her first appearance on any stage took place when she was 13 at Keeney's Theatre in Brooklyn, where she won an amateur night contest singing, "When You Know You're Not Forgotten by the Girl You Can't Forget." The prize was $5 and numerous coins hurled by the audience, and from that night on Miss Brice gave up school for the stage.
Then followed a job as jack-of-all-trades in a movie house, playing the piano, singing and helping out in the projection room. When she was 16 she applied for the chorus of the George M. Cohan-Sam Harris review, "Talk of New York." She remained in the chorus until Mr. Cohan found out she could not dance and fired her.
She then sang in various burlesque houses in New York. One night Florenz Ziegfeld "caught" her act and offered her a job at $75 a week. When she left the stage after introducing "My Man," Ziegfeld gave her a check for $2,500 and said, "You've earned it." Her weekly salary soon reached $3,000.
Only once did she try straight drama. In 1925 she was starred in the Belasco production, "Fanny." It was unsuccessful. The critics called for Fanny the comedienne, not the dramatic actress.
She first went to Hollywood to appear in the silent film, "My Man." She returned to Broadway only to find herself in Hollywood again when talkies came in, playing herself in "The Great Ziegfeld" and appearing in "Everybody Sing" and "Be Yourself."
She was married three times. Her first husband was Frank White, a barber, whom she met in 1911 in Springfield, Mass., when she was touring in "College Girl." The marriage lasted only a few days and she brought suit for divorce. In 1918 she was married to Jules W. (Nicky) Arnstein, only to divorce him in Chicago in 1927, after she had stood by him during his two years' imprisonment, starting in 1924, in Leavenworth, in connection with the mysterious disappearance of $5,000,000 worth of securities.
Two years after her divorce she was married to Billy Rose, the showman, by Mayor James Walker in New York. In 1937 she sued Mr. Rose for divorce, and shortly after it was granted he married Mrs. Eleanor Holm Jarrett, swimming champion. (From May 30, 1951 New York Times Obituary)
Barbara Stanwyck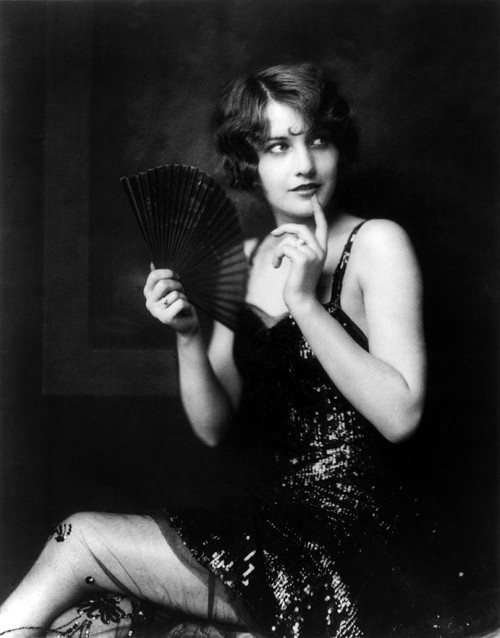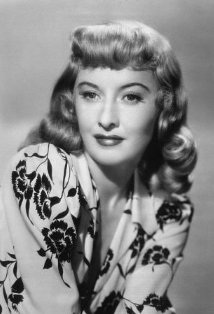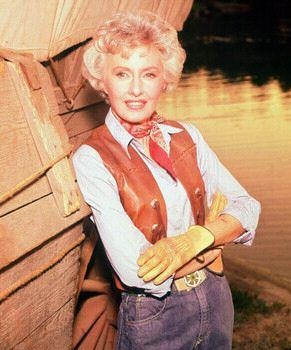 The first photo: Future Hollywood star Barbara Stanwyck three-quarter length portrait, seated, turned to the left, holding fan. Photograph by Alfred Cheney Johnston "between 1920 and 1930", but more likely between 1922 (when Stanwyck, aged 15 and still named Ruby Stevens, became a Ziegfeld Girl), and 1926 when she began her career as a Hollywood movie star. The last photo is from the set of the television series "The Big Valley" which aired between 1965-1969.
The actress's take-charge, down-to-earth screen image mirrored her childhood as Ruby Stevens, born into a poor family of Scottish-Irish descent in the Flatbush section of Brooklyn on July 16, 1907.
When she was 4 years old, her mother was killed when a drunken stranger pushed her off a moving streetcar. The loss devasted her father, a bricklayer, who deserted his five children. They never saw him again. Left School at Age 13. Young Ruby, who had to board with family friends, sought solace by seeing as many movies as her pennies allowed. At the age of 13, she had to leave school to earn a living. She started as a wrapper in a department store and worked in other low-paying clerical jobs while studying dancing with a vaudevillian friend of her family. (From New York Times Obituary by Peter B. Flint, Jan. 27, 1980)
Today Barbara Stanwyck is remembered primarily as the matriarch of the family known as the Barkleys on the TV western "The Big Valley" (1965), wherein she played Victoria; and from the hit drama., "The Colbys" (1985). But she was known to millions of other fans for her movie career, which spanned the period from 1927 until 1964, after which she appeared on television until 1986. It was a career that lasted for 59 years. (IMBD.com)
Barbara Stanwyck was a dazzling study in contrasts. All times sultry and sweet, vulnerable and tough, comedic and dramatic, joyous and tragic - she simply was one of the greatest and most unique actresses during Hollywood's Golden Era. She could play whatever the part required, whether it was madcap glamour in comedies like "The Lady Eve" (1941), tough-minded feminism in weepeis like "Stella Dallas" (1937) or poisonous vixens in noir classics like "Double Indemnity" (1944). A working-class girl from Brooklyn, she became one of the richest women in the United States due to wise investments. On a personal note, she was widely popular with her peers, yet died a virtual recluse.
Helen Hayes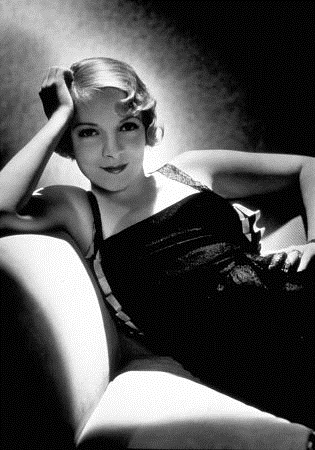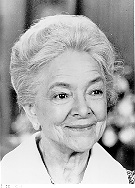 Helen Hayes (October 10, 1900 - March 17, 1993) was an American actress whose succesful and award-winning career spanned almost 70 years. She was eventually to garner the nickname First Lady of the American Theater.
Born Helen Hayes Brown in Washington, DC, she began a stage career at an early age. By 10, she had made a short film called Jean and the Calico Doll, but she only moved to Hollywood when her husband, playwright Charles MacArthur, signed a Hollywood deal. Her sound film debut was "The Sin of Madelon Claudet," for which she won the Academy Award for Best Actress. She followed that with starring roles in "Arrowsmith," "A Farewell to Arms," "The White Sister," "What Every Woman Knows" and "Vanessa: Her Love Story." But she never became a fan favorite.
Hayes and MacArthur eventually returned to Broadway, and she starred for three years in Virginia Regina. Eventually, a theater was named in her honor. She returned to Hollywood in the 1950s, and her film star began to rise. She starred in "My Son John" and "Anastasia," and won the Academy Award for Best Supporting Actress in 1970 for "Airport." She followed that up with several roles in Disney films such as "Herbie Rides Again," "One of Our Dinosaurs Is Missing" and "Candleshoe."
Hayes wrote three memoirs: A Gift of Joy, On Reflection and My Life in Three Acts.
She has a star on the Hollywood Walk of Fame at 6220 Hollywood Blvd.
Helen Hayes died on March 17, 1993 and was interred in the Oak Hill Cemetery, Nyack, New York.