Jenny Kokai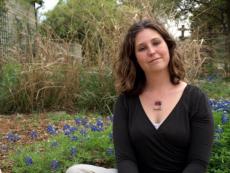 Dr. Jenny Kokai is currently an Assistant Professor at Weber State University in Ogden, Utah, where she teaches theatre history, playwriting and dramaturgy, theatre education and other classes to undergraduates. After graduating from Butler in 2001 with a B.A. magna cum laude with highest honors, double majoring in theatre and philosophy, she obtained an M.A. from Washington University in St. Louis and a Ph.D. from The University of Texas at Austin. Prior to working at Weber State University, Jenny taught for two years at the Texas State University.

As a scholar, Jenny is currently working on a book project about underwater spectaculars and water based tourism in the United States. Her project starts with the Aquacade at the 1939 New York World's Fair, travels through strange road side attractions, and ends at SeaWorld. Part of this project has been published in article form in Theatre History Studies and another article on Shamu is in an anthology under consideration at publishers. She received a Hemingway Grant from WSU to support that work. In addition to this project, she is currently co-authoring an article with a philosopher, Mary-Beth Willard, on what philosophy can learn from the expressive arts. She has published and presented work from a previous project on women's use of performance as a mode of social and political engagement in the Revolutionary War. One article from that project can be found in the Journal of American Drama and Theatre. Jenny regularly presents at academic conferences like the American Society for Theatrical Research and the Association for Theatre in Higher Education.

Jenny is an active playwright and director. Since graduating from Butler she has directed Into the Woods, A Midsummer Nights' Dream, The Ladies of the Corridor, Boomtown, Ghost Town, Tartuffe and other plays for a variety of theatres. She wrote and directed the play Lost Land for the 2008 Frontera Festival in Austin, Texas. This year she will be directing "Of Myth and Mud" by Sarah Saltwick in the fall and the student production organization, AAT, will be premiering her new play "Girl of Glass" in February.