The Show
Of Myth and Mud, By Sarah Saltwick, Directed by Jenny Kokai, Nov. 8-16, 2013

Old creatures, new stories. This collection of nine short plays journeys through classical mythology begins with Pandora and the jar of Hope. The play arrives at new understandings of love, faith, death and family. Among the characters we meet are: Cecilia the Selkie, before her transformation into a seal; Dahlia the dragon, on her wedding day; and Medusa the Gorgon, in her cave. There is wild humanity in these worlds.


Production History
Under the original title of She Creatures
Reading
May 17, 2010
Last Frontier Theater Conference
Valdez, AK
Workshop
March 29-April 2, 2011
University of Texas at Austin Department of Theater and Dance
In partnership with University Co-Op
Austin, Texas
Reading
August 10-11, 2012
Nouveau 47
Dallas, Texas
http://shecreatures.eventbrite.com/
Nouveau 47 Theatre is excited to present a staged reading of She Creatures by Sarah Saltwick!
Unicorns, shapeshifters, a dragon, and a woman with a very important box. She Creatures explores the power of myth and the shaping of female identity.
8pm, pay-what-you-can and BYOB.
The cast includes:
Hilary Couch
Didi Archilla
Kelsey Kruse
Matt Clark
Elizabeth Evans
Kristin Parr
Camille Gray
Matt Tomlanavich
Sarah Saltwick will be in attendance for BOTH performances, and we invite you to stay and share your thoughts during a short talkback with the playwright, actors, and director after each performance.
About Sarah:
Sarah Saltwick is a playwriting and fiction Michener Fellow at The University of Texas in Austin and a graduate from Hampshire College. Her short play GROUND was a finalist for the 2012 Heideman Award at the Humana Festival. Her play RABBITS was part of the 2011 WordBRIDGE Playwrights Laboratory. Her work has been presented, developed or produced by The University of Texas at Austin, Austin Scriptworks, Bristol Riverside Theater, Shrewd Productions, Last Frontier Theatre Conference, and Moving Arts in Los Angeles CA. She's written plays inspired by video games, Texas, guacamole, Dolly Parton, and more.
Magnolia Lounge
1121 1st Ave
Dallas, TX 75210
Original Production
SHE CREATURES
by Sarah Saltwick
"She Creatures" tells the tale of mermaids, unicorns, and dragons. Creatures of myth and legend fill the room and guide Pandora on her journey of self discovery. An "Everyman" story for every woman.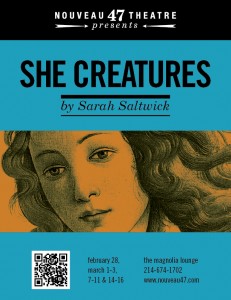 March 7-9, 11, 14-16, 17 - 8:00 PM
March 10, 17 - 2:00 PM
Directed by: Tom Parr IV and Matthew Tomlanovich
Cast:
Hilary Couch
Ginger Goldman
Sherry Hopkins
Danielle Pickard
Ben Bryant
Scenic Design: Scott Osborne
Movement Design/Rehearsal Stage Manager: Erin Singleton
All Other Design: N47 Ensemble and the Cast of She Creatures
Special Thanks:
SMU, Richardson Highschool Theatre Department, Claudia Stephens, David Gutierrez, The Tomlanovich Boys, N47 Ensemble Members
http://www.nouveau47.com/she-creatures-2013/